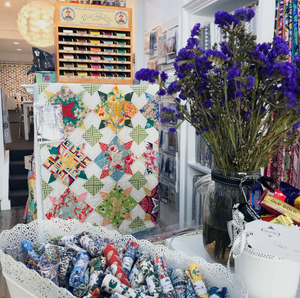 Step 1: Click on the 'Appointment' button.
Step 2: Select your date from the calendar shown.
Step 3: Select your time slot from the menu shown to the right of the calendar. You will see a green tick once you have selected a time.
Step 4: Press red 'Confirm Booking' button
Step 5: Press 'Check out' and complete your contact information or Press 'PayPal'. Complete as though purchasing a product: you will not be charged. 
Step 6: Press 'Pay Now'. Once loaded you will see a 'Your order is confirmed' message. 
Due to COVID-19 we have had to close our doors to street traffic for the health and safety of our customers and staff.
Book an appointment to come and visit the shop  safely and with minimal proximity to others

Appointments available in 30 minutes increments and limited to 1 at a time
It is important for us all to maintain our mental wellbeing during these stressful times, and for many of us sewing is what keeps us creative, engaged, and happy! Repetitive activities such as sewing are proven to help anxious minds stay focussed and calm, so it's our priority to make sure we can be as available as possible to help you keep your favourite hobby going. And we can't WAIT for all the show and tell we'll see at the end of it.
E-mail us at hello@queenoffabric.com.au or call us on (03) 95963434 if you have questions about our new appointment booking services.