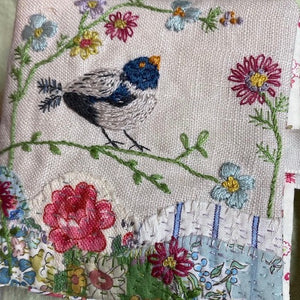 We are very excited to have Susan teach embroidery in a set of six classes in 2023! Known for her gorgeous embroidery that she adds to her quilts, we're so excited to give Queen students the chance to learn this lovely skill too. 
In the classes, you will learn to make a variety of exquisite little zjooshed up bags, needlebooks and Christmas projects using different simple stitching techniques and also projects that will be continuously worked on across the six classes.
Patterns included and some supplies. Suitable for beginner stitchers. No previous embroidery skills required
Class runs from 10am - 3pm. Morning tea and a light lunch included.
Dates
Saturday March 4th
Saturday April 1st
Saturday June 3rd
Saturday July 22nd
Saturday October 7th 
Saturday December 2nd
Note: You must sign up for all 6 classes as this is taught as an ongoing course. Individual class cancellations possible in extenuating circumstanes, however cancellation of the whole course is not.