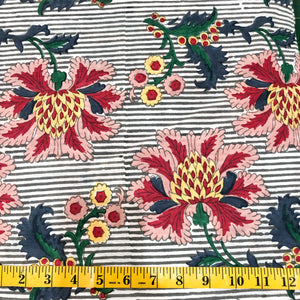 100% Cotton Voile. Special design by Casandra Harper Textiles. Hand block printed in India.
1 unit is 25cm, select multiple units for more. Fabric will be cut as one piece to a maximum of 5m, as this is the length of the tables the fabric is printed on.
Fabric is 110cm wide 
Amounts larger than 2 qantities will come in more than one section - each piece of fabric is 5m long as that's the length of the table the print on!